Posted on Friday, February 3, 2023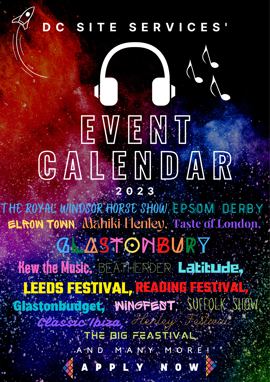 It's finally time to start planning for the summer with the launch of DC Site Services' 2023 Event Calendar! You'll see some familiar names on there, as well as some new ones, and this is just the first glance at what the year ahead will look like. More events and festivals will gradually be added so keep checking back!
How to get involved?
If you're new, all you need to do is create your DCSS PAAM profile which you can do here. This is essentially an application you only need to complete once which you can log into at any time to manage your applications. If you're a seasoned crew member you know the drill, just log in and check that your details are still current. You may find that when you login that you're asked to re-enter some fields, simply give the tech gods what they ask and then click "update profile", and you're good to go!
What's new?
There are a few things we'll be changing this year, following in the same vein as our commitment to paying 50p above the national minimum wage, we'll also be paying crew for their time to attend briefings. This applies to camping shows, and regardless of how brief (ha) or long it is, crew will be paid for the full hour.
How long until applications are accepted after making them?
Approximately two weeks after the calendar launch we will begin to accept applications. This gives everyone a good chance to get their applications in before positions at your favourite festivals start to fill.
What about Glastonbury?
You will notice that Glastonbury festival is on the calendar as "opening soon." This is not to prolong the anticipation, but to give crew who are new to DC Site Services a chance to make applications leading up to Glastonbury. Due to the high volume of applications received for this festival, regular crew will be assigned first, followed by crew who have worked at least one previous event. If you are new and haven't worked a show before, you can improve your chances of being accepted by working any of the available shows that fall before Glastonbury. Glastonbury applications will open in one month's time on the 6th of March.
What's in the pipeline?
On the 13th of February we'll be advertising for specific onsite roles. If you want to work at a festival but in a slightly different capacity, then keep an eye out for our newsletter next week which will outline how to apply to work as either an Onsite Administrator, or in the position of Event Control.
As always, there's more to come. More events and festivals will eventually be added to the line-up and more opportunities for you to become involved and to progress within the Company will become available. Until then, apply for what tickles your fancy and contact the office should you have any queries.
Let's go!