Posted on Wednesday, December 21, 2022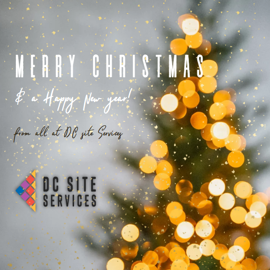 It's been a long year but certainly one worth celebrating. This year we saw the long-awaited return of Glastonbury festival, we embarked on a new venture with the Cazoo Epsom Derby, and of course, we had the honour of assisting with the waste management for the Queen's funeral. Those are just a few of the highlights of the season amongst the eighty-six events & festivals we serviced this year, and we're glad that you were there to be a part of it.
Recently, we sent out our staff survey and received back what was overall an extremely positive response. We've found that though briefings have been positively received, these should be more specific to onsite positions. Our arrival and induction process is considered good but could improve, the use of What3word has vastly improved finding meeting points and the communication with the office is generally very good. For more details on these results, please click here.
Your feedback is the driving force behind the changes and improvements we implement, and we'll be applying these changes to the year ahead including more in-depth training for our Team Leaders, paid briefings at camping events, and our continued commitment to paying 50p above any increases to the National minimum wage. We'll touch on this more next year…
With our focus now on 2023 there will be a few key onsite roles we'll be recruiting for ahead of the new season…
Onsite administration. This is for the larger festivals such as Latitude, Glastonbury, and Leeds festival.  This role has been fulfilled by many people in the past nearly 30 years, however with so many new crew joining the ranks these past two seasons, we'd like to hear from you if this is a role you would be interested in undertaking. This will include benefits such as a higher pay rate and downtime between booking crew in and out of their shifts.
A night team leader for the Let's Rock tour. The Let's Rock tour is the UK's biggest retro festival, celebrating everything good about the 80's over several locations in the UK. DC Site Services is the waste management contractor for this series, and for 2023 we would like to identify one key crew member to team lead the night crew. The benefits of this will include certain contributions (discussed directly with the right candidate) and an increase in pay.  
Onsite control. This is an essential role at any large festival site. If you're handy with a radio and familiar with this position, or have worked and enjoyed this role previously, keep an eye out early next year for when we start to recruit, or feel free to get in contact to express your interest in any of these roles the meantime.
We'll also be looking for the right crew who would like to team lead, and we'll be providing in-person training for the successful applicants early next year.
The 2023 Calendar Launch! DC Site Services will launch its event calendar on Monday the 6th of February. You will be able to view and apply for all events which will be on the calendar so far (this will continue to be updated!) Followed by a second launch in early March where applications for Glastonbury will open, along with any other newly added events and festivals.
As you may already be aware, our offices will be closed from midday, Friday 23rd of December and we will be back on Tuesday the 3rd of January 2023. In the meantime, we'd like to wish you Happy Holidays and a Happy New Year, from all at DC Site Services.