Posted on Friday, May 27, 2022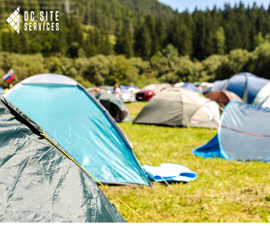 This is the first trial when arriving at an event or festival. Where do I put down my home for the next couple of days? Where should I avoid camping? Follow this advice to pick the best camping spot.
Don't camp at the bottom of a hill – otherwise you may get swept up in a mini-tsunami should the heavens open.
Don't camp near rowdy groups if you want to get some good quality kip in.
Make sure that the ground is even and not lumpy; sleeping is awkward if you've got a lump sticking in your back.
Never camp downwind of the toilets unless you are nose blind. Avoid camping too far away from the toilets in case you need to make a mad dash in the darkness to use the loo.
Aim for a spot away from walkways or paths as you are less likely to be woken up by early or late risers.
If you're working a night shift, try to camp under the cover of trees as they block out daylight and provide cooler sleeping conditions during the daytime.
Customise your tent with glow sticks so you can easily find you way back to your own tent.
Camp with people on the same shift as you – this means that people returning to the campsite for their breaks won't wake you up!
Practise putting up and packing your tent away at home.