Posted on Monday, December 20, 2021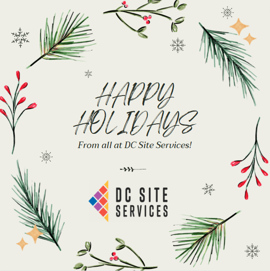 2021 Has without a doubt been a year unlike any other for DC Site Services and the event and festival industry as a whole. Ordinarily a festival season would follow months of careful planning, scheduling, and preparation for the undertaking ahead. Due to the ambiguity the events industry collectively faced this Spring while waiting for confirmation of what could safely take place, this forced many events and festivals to cancel in the early part of the year due to a lack of government backed insurance and a general atmosphere of anxiety.
Come July, once restrictions were lifted this ultimately thrust us all into the festival season after a year of being locked away amidst a rapidly changing environment, with those events that were able to go ahead often being given the all-clear with very little notice or chance to prepare.  What's more, with many events rescheduled from the early part of the summer to later in the year and with only a small window between the government giving the green light to go ahead and the festival season launching, we were left with the prospect of, at short notice, condensing six months' worth of Events & Festivals into essentially three. We not only succeeded in doing this, but the overwhelming feedback from crew has been among the most positive we've ever received at DC Site Services.
Despite circumstances beyond our control that made an already fast-paced and at times demanding business even more challenging (a lack of infrastructure and supply chain issues following the pandemic, lengthy accreditation and Covid-secure protocols at many events, feeling the knock-on effect of Brexit and an unprecedented nationwide staffing shortage) we're proud to finally be able to sit back and reflect on what an achievement it is to simply be a still operating, successful Event & Festival contractor after the chaos of the past two years, as well as the hope that the hard work of 2021 has laid the groundwork for bigger and better things in the future.
Notwithstanding the issues faced with recruitment within the industry this year, in 2021 DC Site Services have seen a significant drop in our use of staffing partners and an increase in our own recruitment, not to mention a much welcome upsurge of winter-based event work. DC Site Services ordinarily falls dormant in the winter months, planning for the summer ahead with a few Christmas events along the way. This year however, we are pleased to have consistent winter work throughout November and December, through to the New Year!
None of this would have been possible without you, our clients. We would like to thank all of you who worked with DC Site Services this year, whether you were with us for one event or a few. You helped us to power through what has undeniably been our hardest, but arguably most successful season yet.
With all this under our belts, we focus now on what lays ahead. By now you will have received an invitation to complete a client survey giving you the opportunity to let us know what worked well, what didn't, and any changes you'd like to see implemented for your next event. If you missed it first time around, you still have time to complete this survey by clicking here. Remember, we are already in the process of confirming our event schedule for 2022, so if you have yet to send through your requirements for your 2022 events, do so ASAP to ensure that your event will be staffed and ready.
We will eventually take a break, closing our doors from the 24th of December to the 4th of January. For now, we would like to say thank you for the opportunity to be a part of your event this year, and we hope to continue to work together for the foreseeable future.
Happy Holidays and here's to a successful 2022.
All at DC Site Services.