Posted on Wednesday, March 20, 2019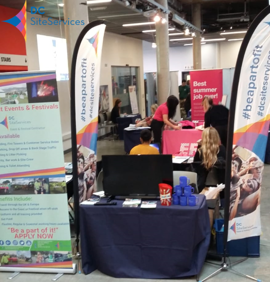 Firstly, shout out and good luck to our crew at the Plymouth University Summer Opportunities Job Fair, let's get those new recruits in!
Secondly, if you're an Ed Sheeran fan and you're free on the 16th, 17th & 18th August then you may want to get your application to work at this event in quickly…
Ed Sheeran will be playing at Roundhay Park, Leeds with special guests the Darkness and Lewis Capaldi and DC has been awarded the contract to provide litter picking services and the waste management for this event. If you would like to work with DC while enjoying this Grammy award-winning artist belting out his best hits then sign into your DCSS PAAM profile to apply and secure your position! Quick reminder that there is a £75 deposit for this event, however if you apply for ongoing employment, you will only need to pay the difference (this will be returned to you on successful completion of work)
Shifts will be between 7 & 9 hours long and will include an unpaid break. Onsite camping is available for those not local to the area.
Any questions, please do not hesitate to get in contact with our friendly admin staff who are only a phone call or email away.