Posted on Friday, December 22, 2017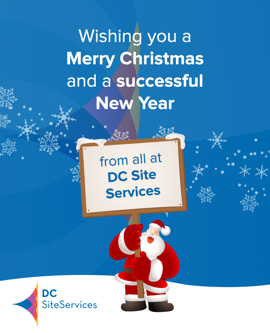 It's That Time of Year Again…
Another year has flown by, and while preparations for 2018 are already well underway it's also a time for reflection of the year just gone by. This year we've pushed our recruitment, stepped up our training and changed a few of our operational procedures as you'll see…
Customer Satisfaction...
With every debrief report we send post-event we include the link to our Client Survey. We also publicize this at the end of every year so that you have another opportunity once the dust has settled to reflect upon the service you received.  
From your initial enquiry to the final report, we'd like to know in detail exactly what you felt worked well and what you feel could be improved upon. Your feedback is vital as to how we move forwards as a business, so if you have not already filled one out, please pop the kettle on and take just a few minutes to complete one.
Recruitment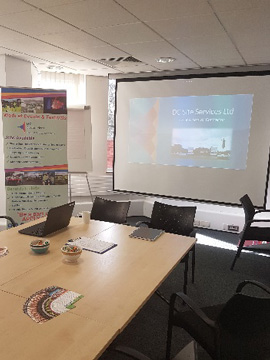 "The crowd is buzzing the music's live, you're working at the festivals you're loving life. You and live events are the perfect fit, you can now be a part of it."
This year we tried a new venture and branched out with our advertising. DC's very own radio advert played throughout the summer on Connect FM, broadcasting to Peterborough and Northampton areas. If you're a local, then perhaps you heard our jingle on the airways?
As fancy as a radio advert is it's still no substitute for good old fashioned, boots-on-the-ground recruitment! This year we attended numerous job fairs, colleges, universities and job centres across the UK to recruit additional event crew.
These campaigns were then judiciously maintained and followed up by group Meet & Greets held at our Peterborough Headquarters.
The time and effort spent in recruiting the additional Event Crew to expand our current database has proved so far to be both successful and rewarding. As of December, we met with nearly x1,500 new recruits, and approximately 35% of these new recruits went on to sign up with us over the summer festival season.
Training & Development…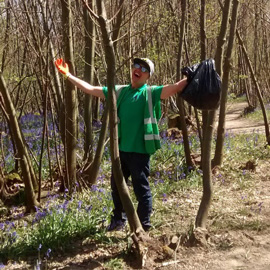 After recruiting the staff, we needed to train them! All event crew are trained before being set loose at any Event or Festival. This year we implemented new training material to better prepare and engage our crew before they have the opportunity to set foot onsite.
To make sure that all our crew are successfully and professionally managed we also cast our net out to recruit extra Team Leaders and Project Managers earlier on in the year. They joined our current pool of Team Leaders and Project Managers who also attended bespoke training sessions at our Peterborough Headquarters.
Needless to say, it's important to us as a Company that our crew, at any level are happy and confident in their duties.
Operational Procedures…
Our Event schedule grew considerably this year and as such we have reviewed not only how it is we operate as a team on-site, but as a team back at the office. This year you'll see a difference in how we process all information from enquiry stage to the final quotation via a new electronic system.
This is with the aim of streamlining the influx of quotation requests and correspondence with clients. We look forward to reviewing the outcome of this same time next year!
ISO Quality Standards…
Quality assurance remains a firm part of our ethos and is the standard we work towards each day.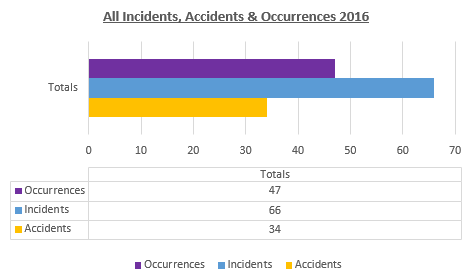 An integral part of this is the capture of information and data as the year progresses and comparing this to the previous year's data. To the left is a breakdown of all 2016 Incidents, Accidents and Occurrences.
Capturing this information is vital when it comes to assessing how it is we can improve upon our methods, and analysing what improvements we have successfully made in the following year.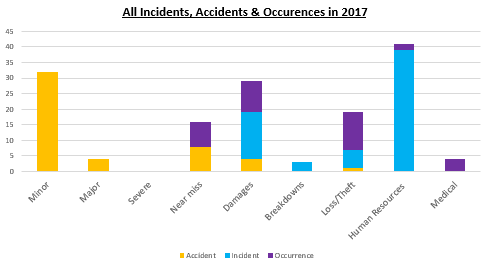 2016 Occurrences make up 32% of all reports. Against 2015 this is a decrease of 34% due to how we now record all reports. 2016 Accidents make up the final 23%. Compared to 2015 this is an increase of 183% due to better reporting.
We are rigorous in logging and recording all incidents to be able to precisely track throughout the year any reoccurring themes.
We're now at a point where we can review statistics for H&S data captured over the 2017 summer festival season. Even at a glance we are pleased to see a steadily maintained level in reporting by our crew out in the field.
In Total, our crew reported a total of x63 incidents, x49 accidents and x36 occurrences.
Both 2016 and 2017 figures are a significant increase to previous years so well done team!
This captured information is feedback into our Team Leader & Project Manager training to ensure that all recording and reporting of accidents, incidents and occurrences is managed proficiently. Changing how it is we categorise and report this information means an in-depth reflection of all happenings over a select period of time.
Services Provided over 2017…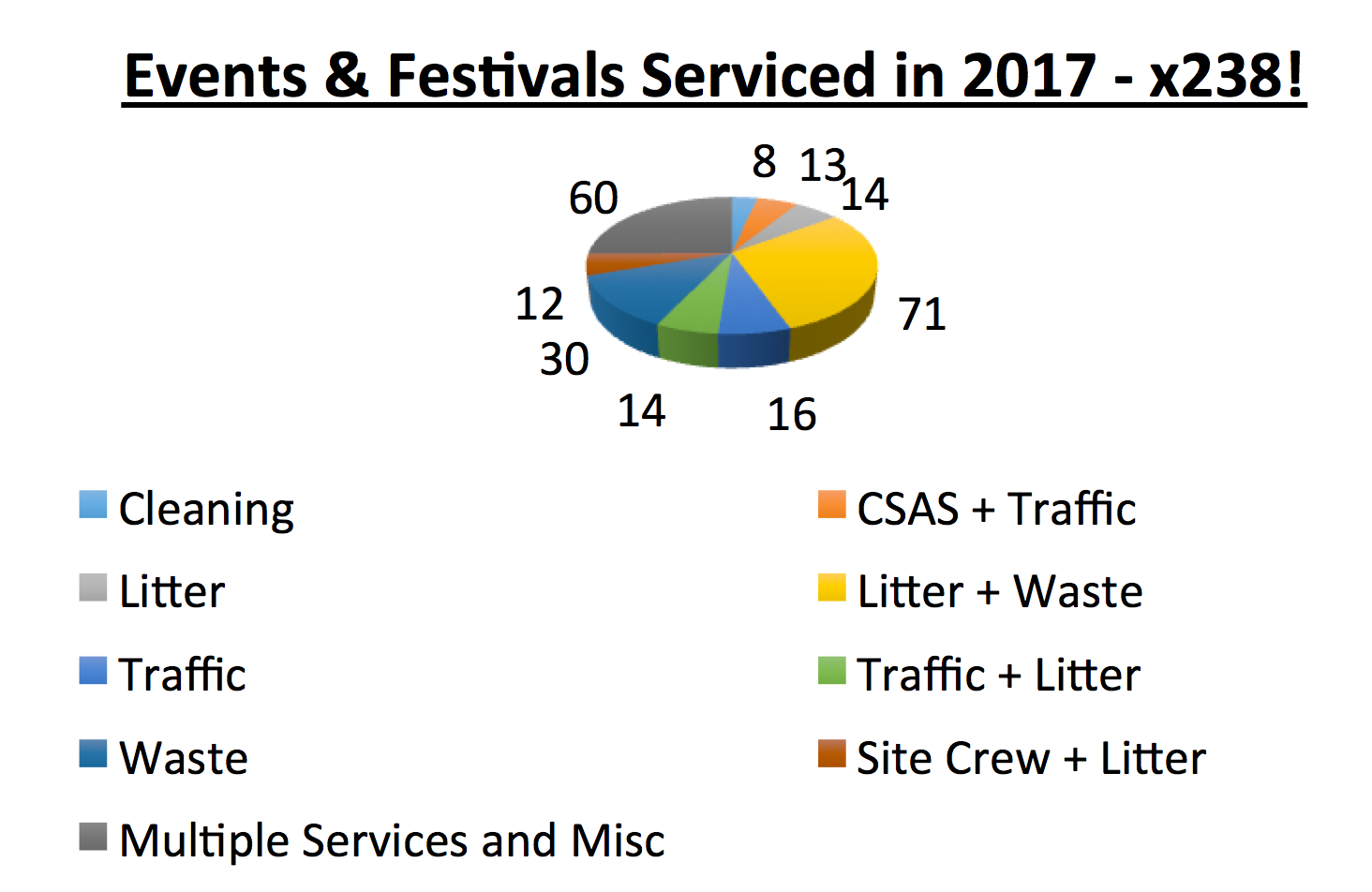 This year DC Site Services was contracted for a total of x238 different Events & Festivals (a big increase compared to 2016!) To the left is a breakdown of these services provided by DC Site Services.
Despite a difficult July and August with the weather making our job even more of a challenge, we still managed to remove 2,393,208KG of waste this year!
Pushing waste treatment to the top of the agenda and selecting disposal points based on reclamation we successfully maintained an effective source separation system!
Being Environmentally Conscientious…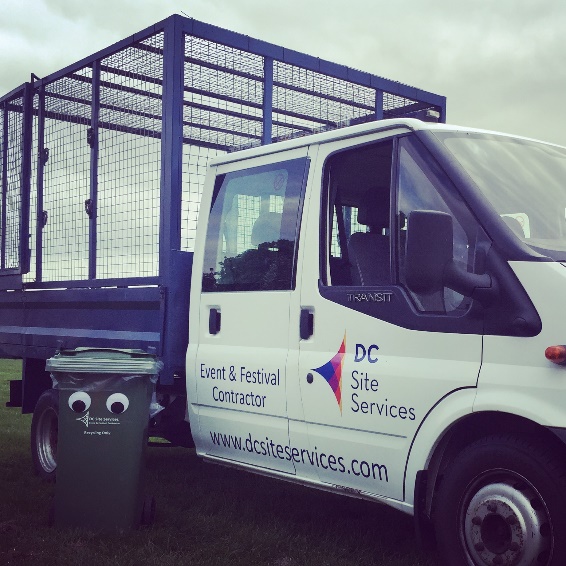 In recent years the industry has noticed a sharp drop in the value of recyclable products so with less financial incentives and stricter recycling criteria's how do we continue to move forward with sustainable events without breaking the bank?
The second problem now faced is packaging listed as 'recyclable' when yes, they may be, but disposal routes are not available readily in this country and therefore end up just contaminating the products that can be easily reprocessed without the carbon footprint of shipping the product to China and other such nations.
After analysing our 2016 waste streams there are huge gaps in recycling performance and not necessarily to do with audience profile but with the products supplied at events.  Over 2017 DC Site Services committed to looking to work closer with organisers in order to narrow packing and pint glass types to ensure products truly can be recycled.
2017 Stats...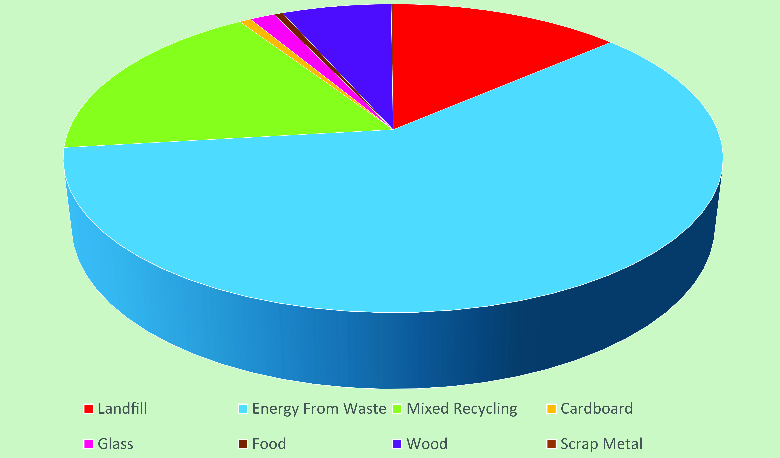 Despite a difficult July and August with the weather making our job even more of a challenge, we still managed to remove 2,393,208KG of waste this year! Pushing waste treatment to the top of the agenda and selecting disposal points based on reclamation we successfully maintained an effective source separation system!
| | |
| --- | --- |
| Waste Type | Weight (KG) |
| Landfill | 328,330 |
| Energy from Waste | 1,439,994 |
| Mixed Recycling | 427,543 |
| Cardboard | 16,500 |
| Glass | 35,420 |
| Food | 12,440 |
| Wood | 155,481 |
| Scrap Metal | 2,740 |
Our next big step is communication, signage for public use will be tailored to detail products specifically at events and big pictorial help will allow public to easily relate the item in their hand to the correct picture and therefore the correct bin. This will help to both reduce contamination and increase overall recycling rates.
Extending our portfolio… 
We're proud to be able to say that DC Site Services provides a bespoke service to all our clients, tailored to your exact needs. In keeping with this promise we have expanded our portfolio of services to now include the provision and management of road signs and the introduction of SIA accredited crew to our stewarding teams. As we move into 2018 we intend to continue to develop the range of services we offer in line with the continuing evolution of the events industry.  
Coming up in 2018…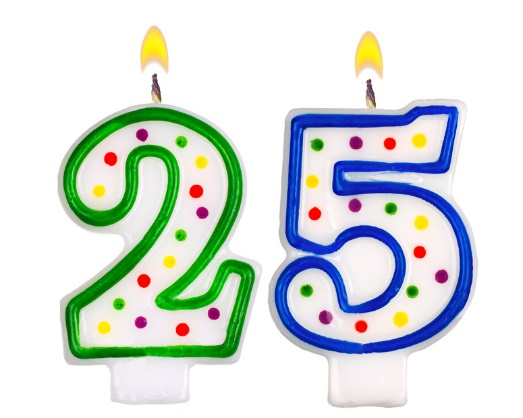 As we move into 2018 we look forward to celebrating our 25th anniversary. Formed in 1993 by Dick & Janet Collins, we are proud to say that DC Site Services will be celebrating its Silver Jubilee very soon!
As with every company, we've had some very good years and some difficult ones, so we're especially proud to be passing this milestone as a larger, stronger company with Dick & Janet, joined by Matt Hettle at the helm. 
On behalf of the Dick, Janet, Matt and office team, we hope you have a Merry Christmas and a Happy New Year.
We look forward to working with you in 2018!