Posted on Thursday, October 18, 2012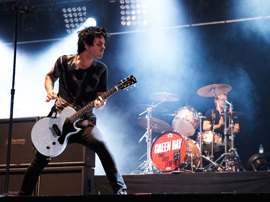 It's that time of year again - the UK 2012 Festival Awards!
Many of the festivals and events DCSS has worked with in 2012 have been nominated for awards. If you have a few minutes please head over and vote. If you do you'll even be in with the chance of winning tickets to every festival that wins an award!
You'll find categories for the best small, medium and major UK festivals, the best new festival, dance event, the best family festival and even the best toilets!
You can find the UK festival awards website at www.festivalawards.com
Or head straight to the voting page here www.surveymonkey.com/s/ukfa2012
If before you vote you'd like a reminder about the 2012 UK festival season have a read of the 2012 festivals roundup and review on the PAAM volunteer management blog!
Green Day Billie Joe Armstrong photo by Marc Sethi.